Freedom instead of restriction
Visual and tactile information combined into one universal design. Freedom instead of restriction, and equal opportunity instead of barriers: This is the ILIS Principle. Integrative information elements allow for targeted mobility, information intake with all senses, and the encounter of persons with different abilities.
Leading-edge products, such as our dedicated fonts and contrasts, can only be developed if planning, research, technology, practice, and design go perfectly together.
Discover the ILIS Principle!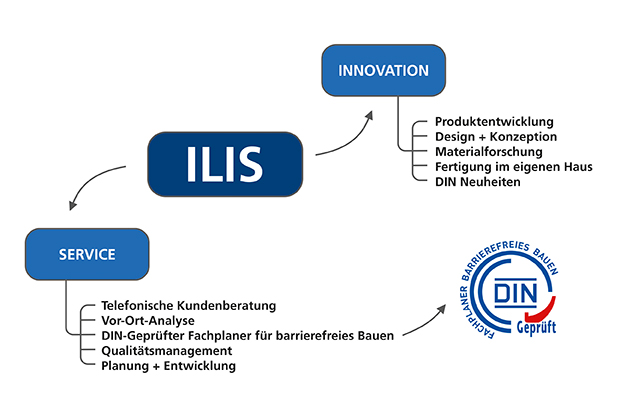 We are pure perfectionists
We offer everything but standard products. At our Hanover site, we manufacture system elements that are individually customized for the respective intended building or public space. With state-of-the-art technology and accurate manual work, every single product is manufactured for optimum fulfilment of our customers' requirements.
With our ILIS principle, permanent quality assurance, and continuous development in close contact with the users, we achieve our intended results: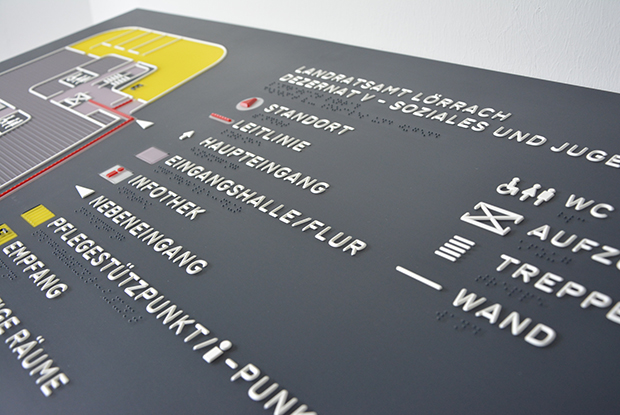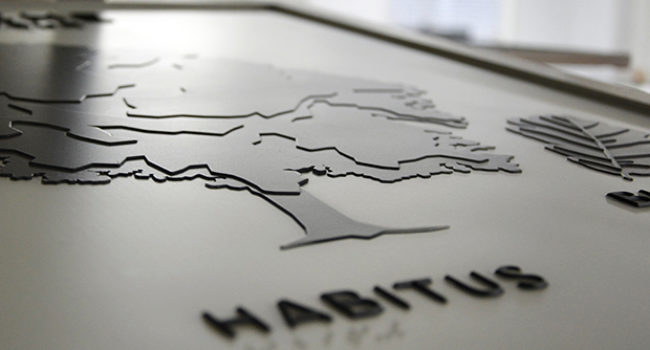 Unique solutions
Every user and every project have different requirements. In order to always find the optimum solution, we offer you service and consulting that you won't get elsewhere. Our integrated guidance systems are based on personal discussion and exact on-site analyses. The resulting system covers every tiny detail and yet remains flexible.
This is only possible with a very personal service, guiding you from the first analysis right up to your destination: system implementation and installation.

Please feel free to contact our consultants anytime!
We will lead the way
Since we see ourselves as pioneers, trailblazers, and innovation drivers, we set ourselves certain standards: As a matter of course, we develop our products in close contact with the users and customers, we engage in material research, and we adopt a holistic approach to developing sophisticated guidance systems.
This is why we are not only leading the way with tactile fonts, special contrasts, and three-dimensional representations of a kind that you cannot buy from others. We also develop leading technologies, such as the moulding technology for tactile plans or combinations with novel electronic and acoustic systems.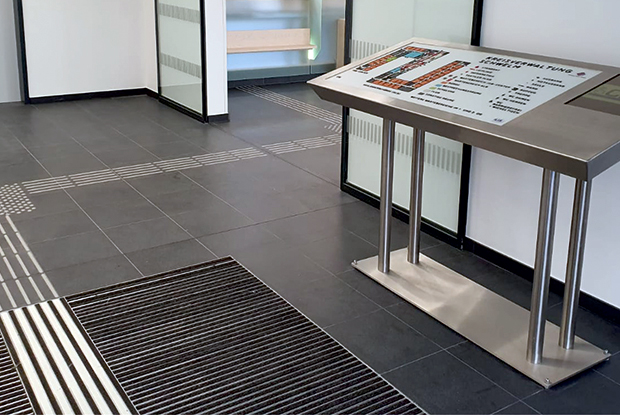 This is ILIS
ILIS, the Integrative Guidance and Information System, has first been developed by the German "Verein zur Förderung der Blindenbildung e.V." (Association for Furthering the Education of the Blind). Today, it is developed, manufactured, and sold by ILIS Leitsysteme gem. GmbH as a non-profit organisation.
ILIS Leitsysteme gem. GmbH manufactures the components of the Integrative Guidance and Information System with the help of state-of the-art computer-controlled machine tools. We develop and produce our systems exclusively in-house.
Jobs at ILIS Leitsysteme
ILIS is the leading manufacturer of integrated control systems with in-house production. Sustainable quality, continuous research and development, as well as a good range of services characterize the ILIS brand.
The success of our company depends to a great extent on the knowledge, experience and commitment of our employees. We appreciate your interest in our company!
There are currently no vacancies.