Guidance lines that speak all languages
With the aim of enabling blind and visually impaired persons to reach places of information in an unassisted manner, our paste-on DIN 32984 markings alter the floor surface, so that they are easily felt with the cane or the feet or seen due to their increased contrast. Indoor guidance lines and attention fields as well as outdoor ribbed and burled structures enable also non-restricted users to orient themselves at the first glance.
Ground and floor marking indoor
ILIS Tactile Surface Plates
Accessibility for all with quick and easy installation
Accessibility for all with quick and easy installation tactile floor marking plates are a good choice when it comes to fast and economic solutions in barrier-free development. A classical application is the upgrading of tactile guidance systems, according to DIN 32984 indoors.

Our self-adhesive sheets stick reliably to almost any surface. Burled and ribbed tactile plates are easy to customize and due to their size quickly mounted even in larger spaces. Thus the installation of attention fields and guidelines is disturbing the inner building life only for a short time. Your colleagues and customers will appreciate it.

Our wide range of colors offers creative freedom to architects and planners and ensures that the desired visual contrast, according to DIN 32975 can always be achieved. ILIS tactile plates with ribbed and burled structure transform the tactile guidance system to a natural part of the building even in existing buildings. Blind and visually impaired persons are able to orientate themselves and independently reach the desired destination.
Ground and floor markings ILIS Standard
Ground and floor markings made of special plastics in the shape of guidelines and attention fields. The material is 1.6 mm thick and thus well perceivable with the cane compared to thinner materials. This effect is enhanced by a coating of glass beads that also makes the material better visible for visually impaired persons. The material is 100% reversible and is thus ideally suited for use in listed historical buildings.
Ground and floor markings of moulded PU
Our flexible tactile guidance system for interior use. It conforms to DIN 32984 and due to its wide range of colours and materials it is able to meet all design aspects. In this way we provide orientation for blind and visually impaired persons and at the same time enhance the initially desired spatial impression.
Arrangements of ribs and burls form attention fields and guidelines. The ribs have a trapezoid cross section while the burls' one is conical. These basic elements are designed according to the measures in DIN 32984. Other sizes are available on request.
The installation takes place by adhesion either with or without drilled floor mounting. After the installation of the ribs and burls, the floor can be walked on after approximately one hour. Full resistance is reached after 72 hours. The interrupted design of the guidance lines reduces the time and effort for floor cleaning.
Areas of application:
ILIS Indoor PU is suitable for almost every dry, clean and even surface indoors. ILIS Indoor Metal can also be installed in outdoor areas. There we generally recommend our ILIS Outdoor Standard System, special boards with burls and ribs.
Lasting stainless steel ground and floor marking
Enduring ground and floor marking from stainless steel. ILIS Indor metal fulfills the highest demands. It resists extreme strains and any of its numerous varieties is an aesthetical gain. Due to this system, ground marking can obtain an extraordinary stylish appearance. Therefore, the compliance with DIN 32984 becomes much more pleasant for the architect and at the same time is a great help for the unassisted orientation of blind and visually impaired persons.
Ribs and nobs from stainless steel are available with or without coloured inlay. Even more scope for design arises through the additional option of coating the markings in individual colours per PVD process. The plain brass model stands out for its elegance and premium look-and-feel.
Our elements are ideally situated for supplementary installation of tactile guidance systems. Like Indoor PU, it can be layed by adhesion using 2-component glue or per stick-on undersurface. For special durability, we opt for our drilled floor mounting version. It is so lasting that we even install it outdoors.
Areas of application:
ILIS Indoor metal is suitable for almost every dry, clean and even surface indoors. Drilled floor mounting is also possible outdoors. Tailor-made for outdoor use is our ILIS Outdoor Standard System, special flexible plastic boards with burled and ribbed structure that also can be layed on difficult surfaces.
Ground and floor marking outdoor
Outdoor orientation
Our ground marking boards made of special plastics form an outdoor guidance system that provides accessibility for all right from the start. Ribbed guidance lines and attention fields in burled structure conforming to DIN 32984 lead blind and visually impaired persons to the desired destination in an unassisted and safe manner.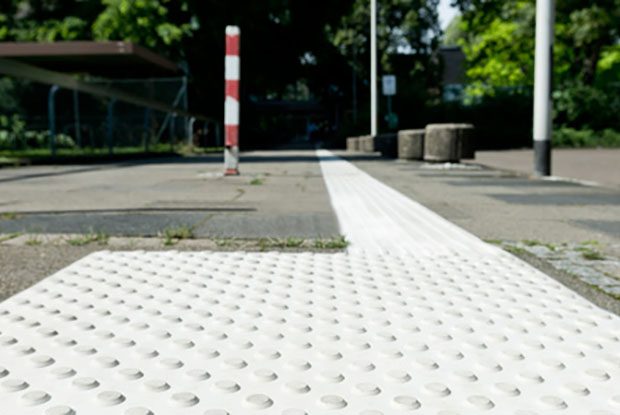 ILIS Tactile Surface Plates
Attention fields and guidelines for outdoors
Outdoor use poses a great challenge on the ground and floor markings. With ILIS tactile surface plates you are able to design tactile guidance systems that measure up to these requirements in any aspect.

The floor marking plates are easily mounted also on uneven surfaces with 2-component adhesive. They are waterproof and color-stable regardless which one of our RAL colors you are using. Burls and ribs meet the standards of DIN 32984 for ground and floor markings in public space in every detail. The tactile sheets from high-performance PU are flexible enough to adjust to the underground yet so stable, an outstanding visual and tactile contrast is ensured for a long time.

Entrance, parking area, stop or crossing - our ground markings are optimized for heavy-duty applications. The guidelines and burled plates allow for flexible and DIN-conform adjustment of the wayfinding to the local situation. In this way, ILIS ground markings provide for an optimal integrative guidance system from the first ribbed field for locating right to the attention field in front of the entrance.