Tactile Plans – Feel the difference
Manufactured using a special moulding technology, our cast-resin plans enable a perfect visual perception. They are available with full-field shadowless backlighting. If implemented in central overview plans with crucial information such as floor plans, escape routes, or information points, this adds essential value to a building.

A very good tactile perceptibility according to DIN 32986, richness in contrast according to DIN 32975, and an optimum of ergonomics in shape and height, as well as extreme durability including special anti-graffiti protection are the characteristics of our cast-resin plans. The durability is such that we give you a 10-year-warranty of the plans' tactile and contrast quality. The graphic processing and implementation as well as the task of determining the necessary contents for orientation are always included in our prices.
The plans are available in several variants: with added voice output, with an added monitor (optionally with sign language video), or with an added inductive hearing system – any desired combination.
The cast-resin plans are available in three barrier-free formats and can be adapted to optimally suit the respective site. If possible, the individual high-contrast coloured areas can be designed to make reference to the CI of your company or institution. A company logo can also be integrated into the plan.
Free from shadows and dark areas– the backlit plans allow for a clear orientation everywhere, day and night.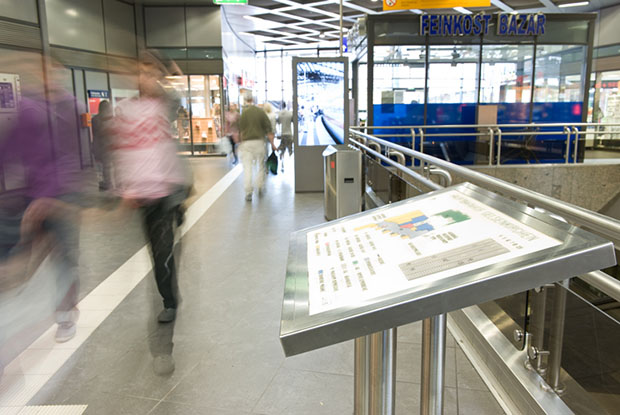 Welcome to the future
What if plans could talk? The world would be even more understandable. Added voice output in our tactile plans makes it possible. The audio information in different languages can be activated by pressing a button or by touching the surface. And what if we went even further? There are endless possibilities.
With an added monitor, the overview plan becomes a multimedia kiosk, its universal design providing all people with a means of communication: Image and video information, simultaneous display of text and signlanguage versions, display of general information and advertising in the sleep mode, "wake-up" when a person approaches, connection to networks and inductive hearing systems. Welcome to the future.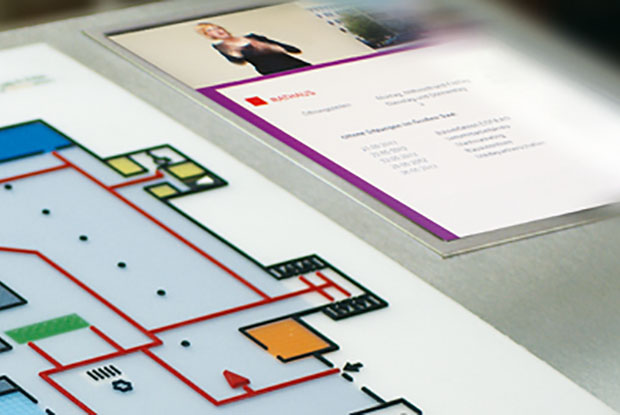 The output of the information about the various areas of the plan are triggered by pressing a button or touching individual surface areas. The acoustic information is complemented by a text and sign-language video output on a monitor. Additionally, the monitor can be used to output picture or video information.
Multimedia Kiosk
Our manufacturing quality and know-how allow us to provide an optimum fitness for outdoor applications – without neglecting durability and technical features. Both its design and performance speak for themselves: Large 46-inch monitors, automatic brightness adjustment, ventilation and many technical details allow these multimedia orientation columns to function as essential pillars of our modern world. A world in which all people have access to fundamental information and orientation.