Barrier-free Stops
A little closer to the aim of accessible mobility. The city railway stop Saarbrückener Straße was converted to an accessible raised platform with ramp. As a standard feature, many of the infra-built stops already have handrail signage showing sighted and restricted persons the directions of the trams. Additionally, here two tactile plans from ILIS positioned at the side of the road in front of the stop allow for a better orientation in the surroundings.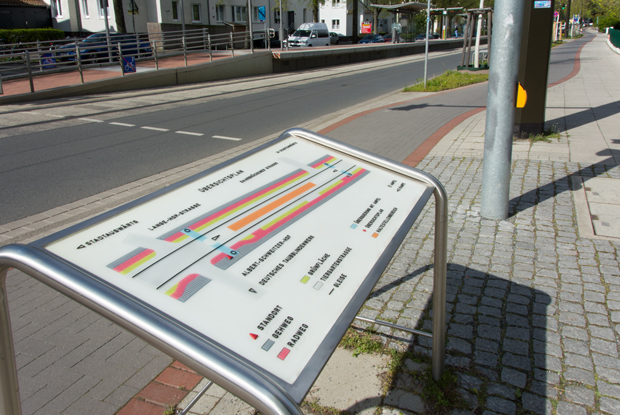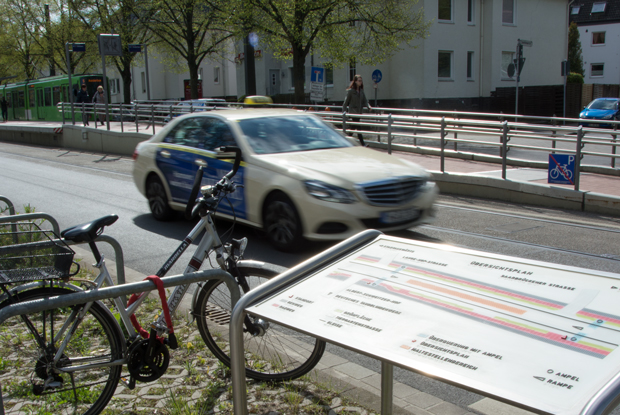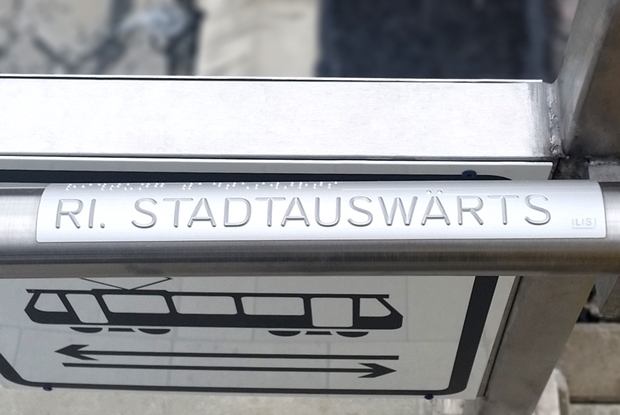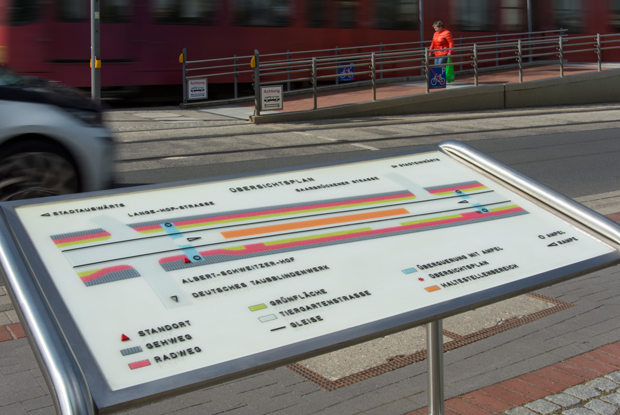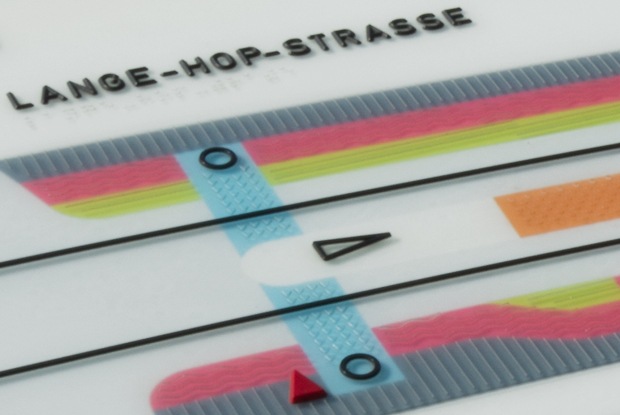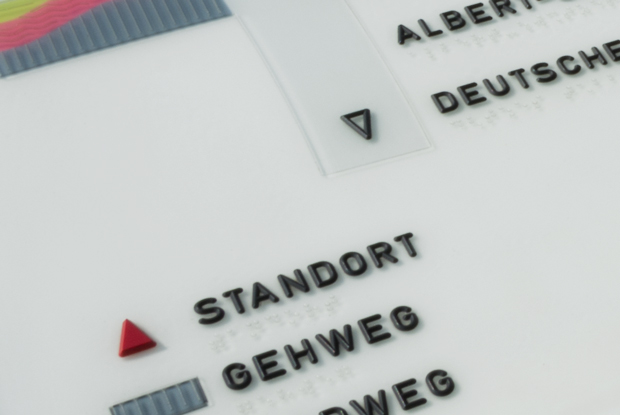 The path is the goal
In one of Dortmund's employment centres, ILIS has designed and installed the complete guidance system.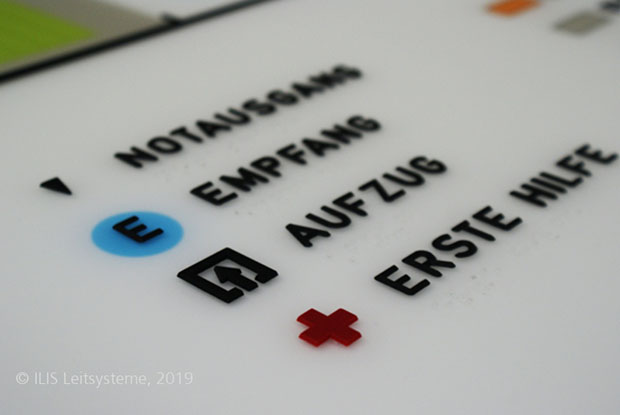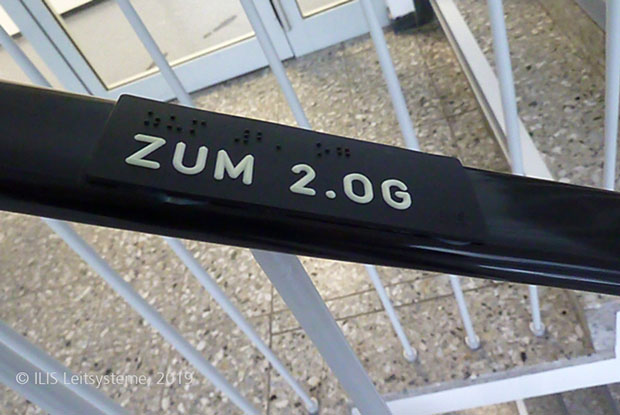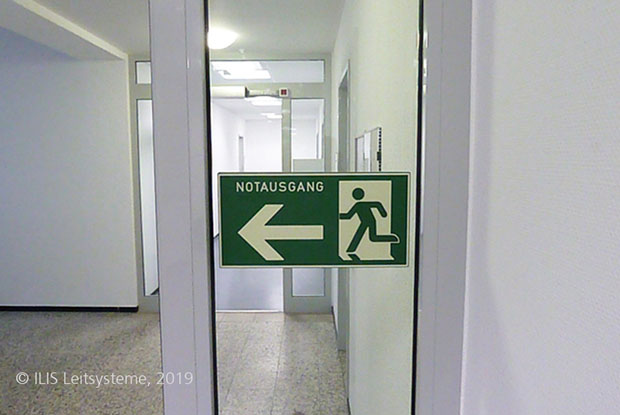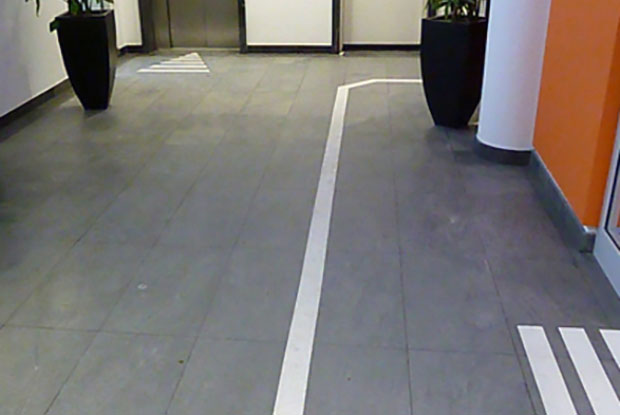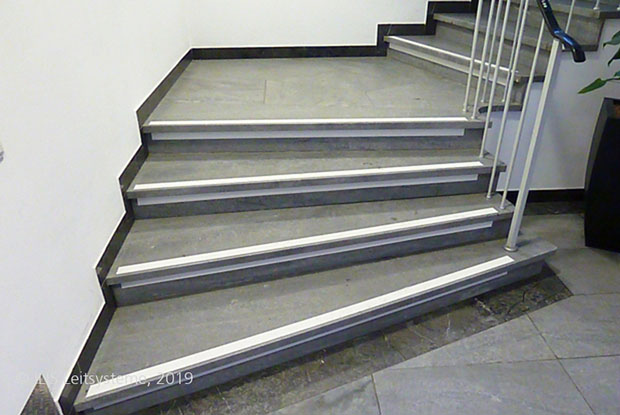 Clear layout of levels
Important transport junctions need intelligent solutions. The new rail station "Gare Belval-Université" in Luxembourg, a city that hosts, amongst other things, the European Union's administrative headquarters, needed an adequate guidance system.
We were awarded the contract by the railway company CFL. ILIS planned, designed and manufactured a tactile overview plan as well as handrail plates for the different levels and access points, and installed them at the predefined places.
Our solutions always follow a holistic orientation concept, regardless of whether they are backfitted or entirely new.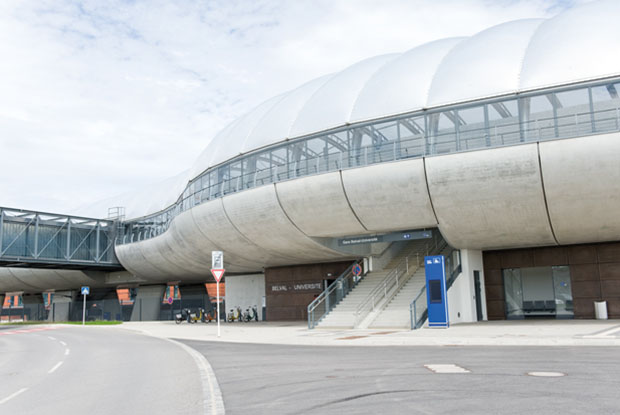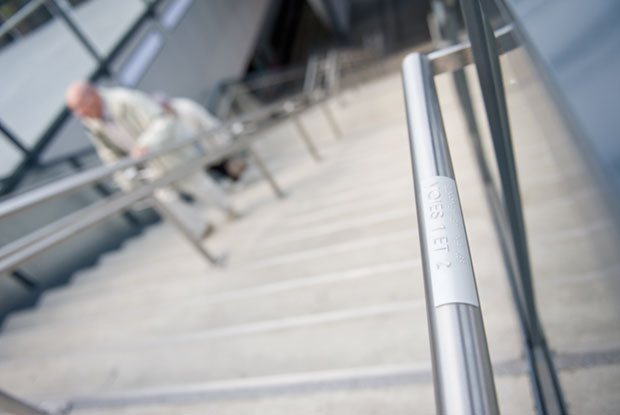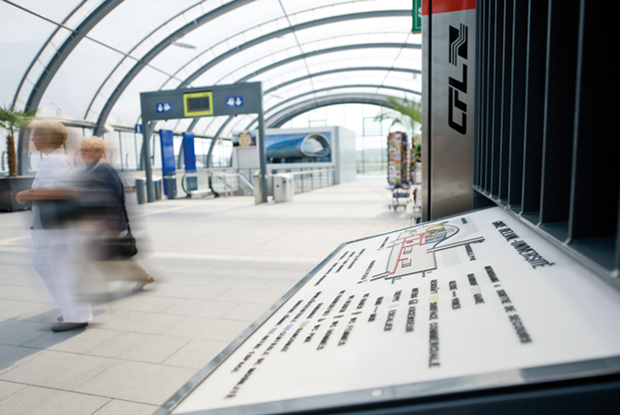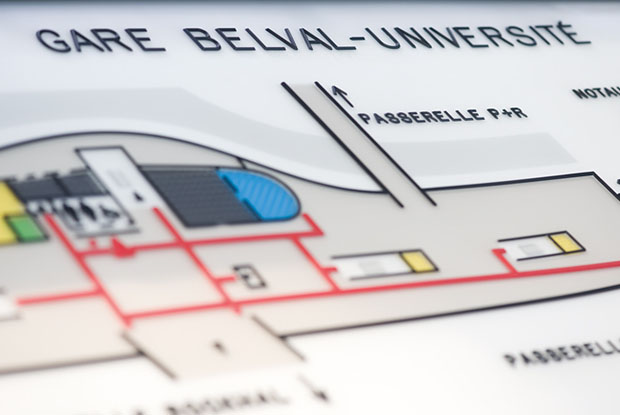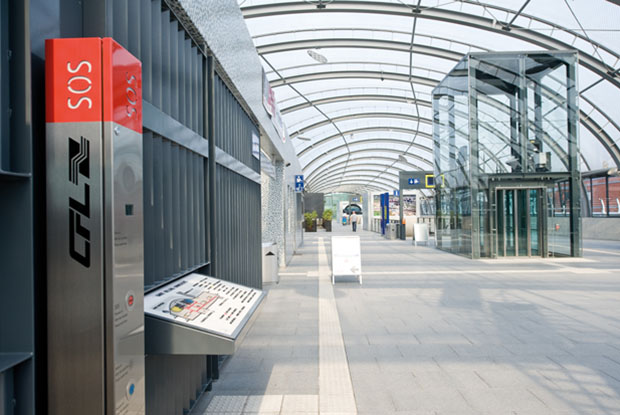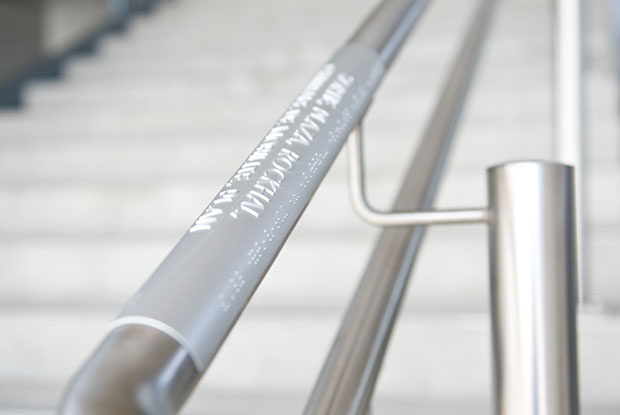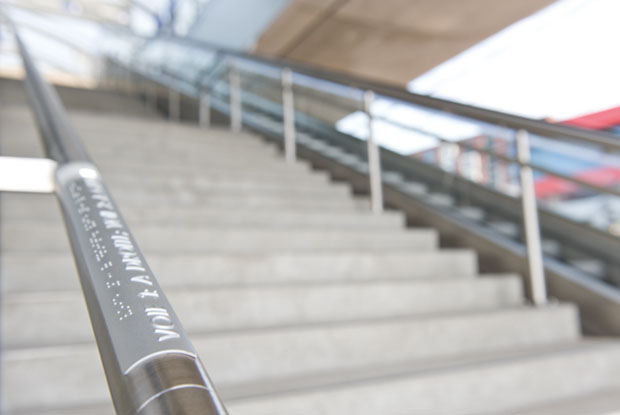 A new building for everybody
The Bergische Universität Wuppertal planned an entirely new building – accessible for all. Access was intended to be possible on several floors. In order to address this challenge, we used several different ILIS system components: A tactile overview plan, different floor markings, markings on steps, and handrail plates. Door plates were backfitted with pyramidal lettering and Braille. The students, whether sighted or blind, whether mobile or restricted, are now enjoying a clear and quick orientation without barriers.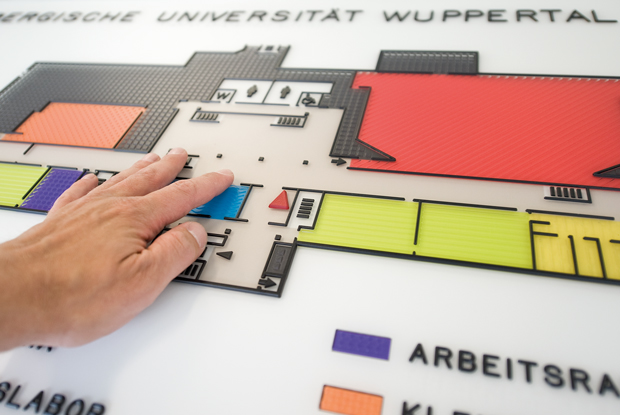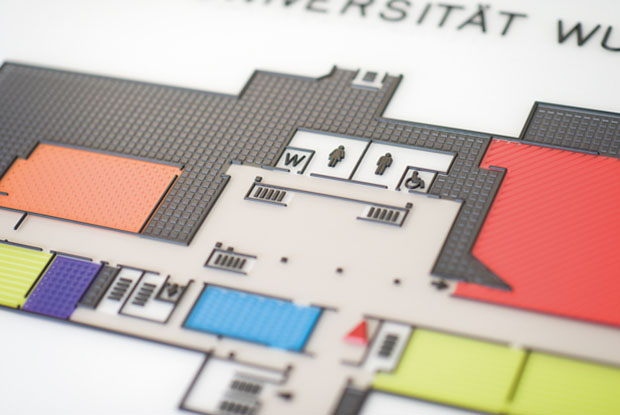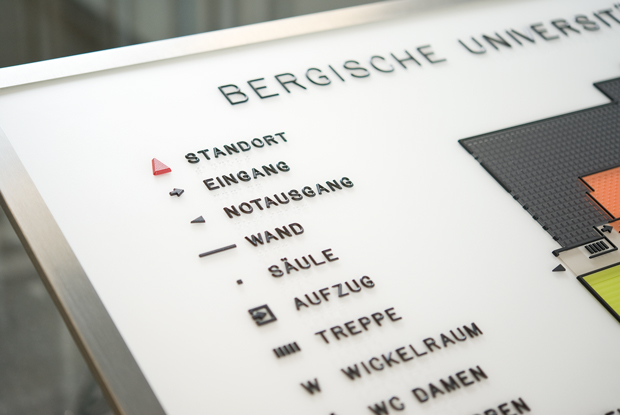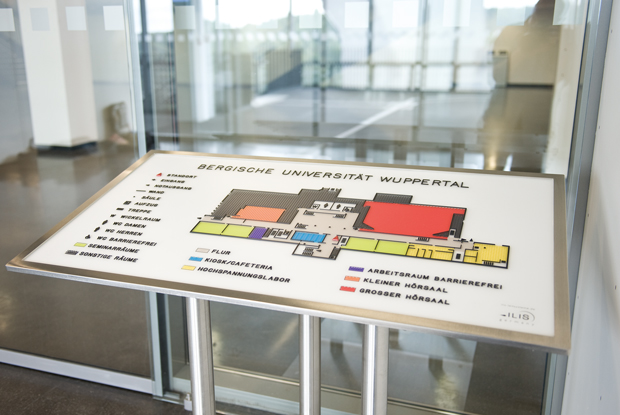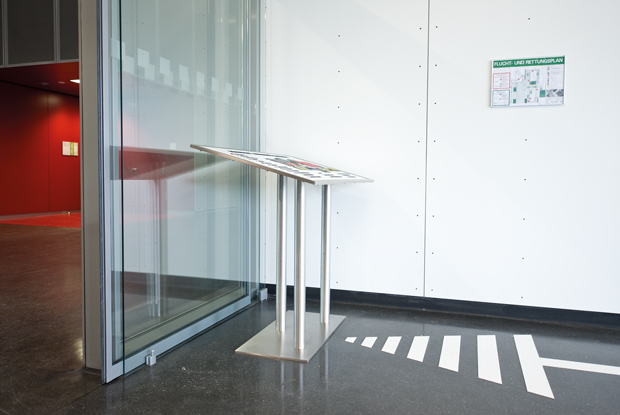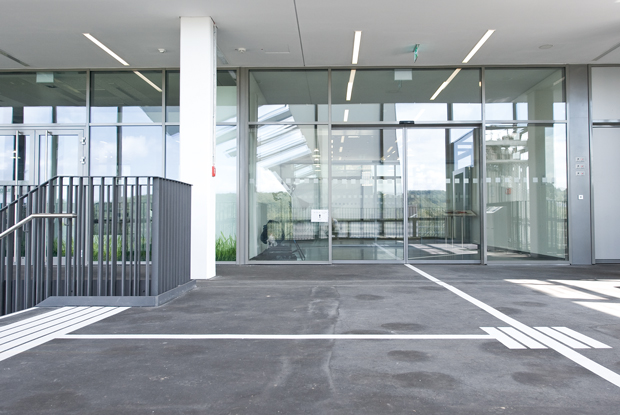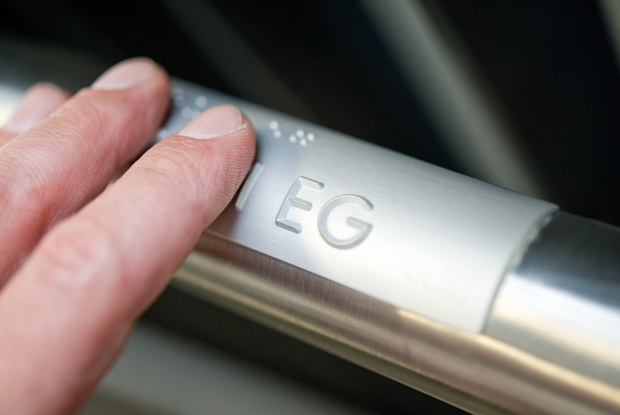 Administration Building Düsseldorf
Equal treatment made real
The third floor of the administration building of Düsseldorf municipality hosts the offices for equal treatment for men and women.
ILIS Leitsysteme perfectly matches the town authority's Corporate Design. Each floor is the home of a different important office: From Youth Welfare to Adult Education.
Our information elements help all Düsseldorf citizens find their destinations.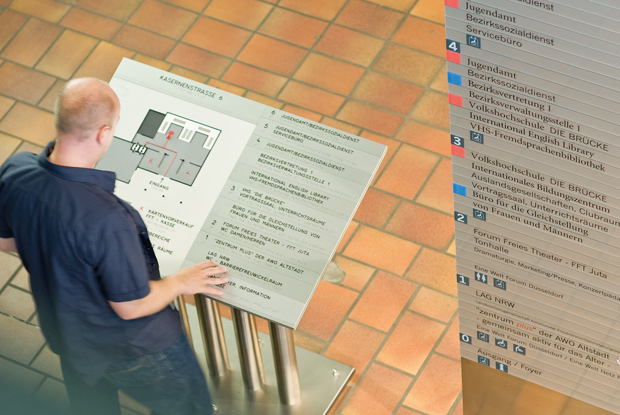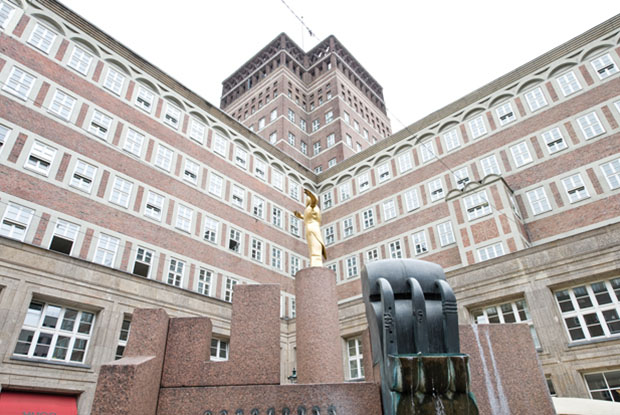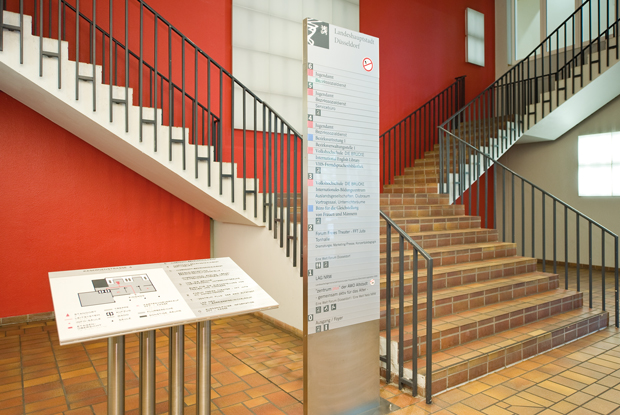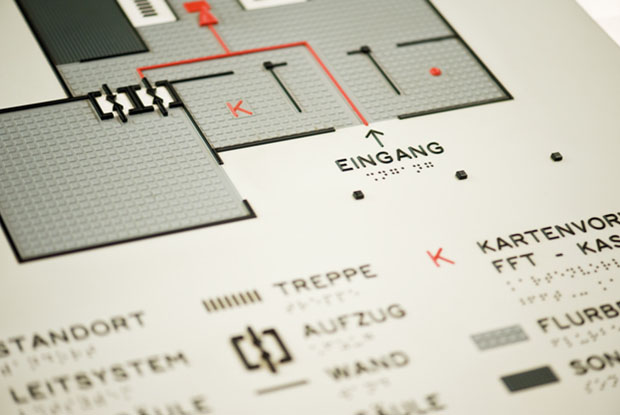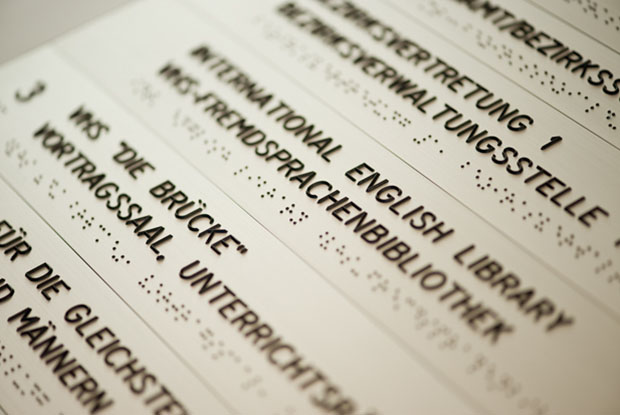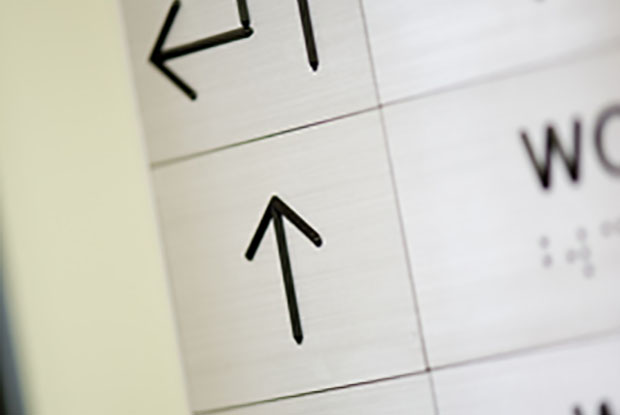 Equal opportunity on a high level
Seen from above, this innovative and vast newly built court house in Düsseldorf is slightly reminiscent to a legal section sign, with its glass-roofed central foyer and its two patios.The sections of the German Equality for the Disabled Act (BGG) have indeed been implemented in an exemplary fashion:
In cooperation with the company Vangenhassend and using the latest technology, ILIS planned, manufactured and delivered multiple tactile cast-resin plans showing the layout of the different levels and court areas, emergency exits and information points – recreating the "section sign".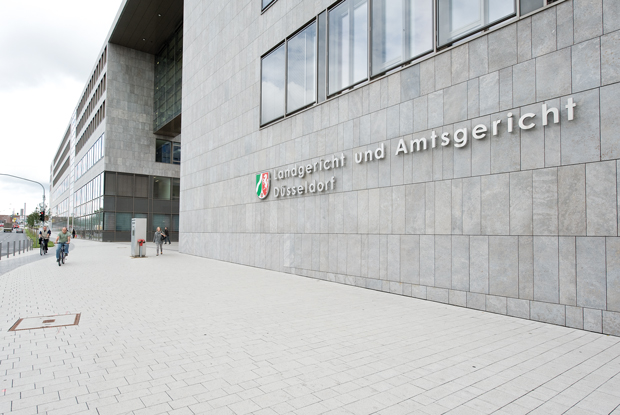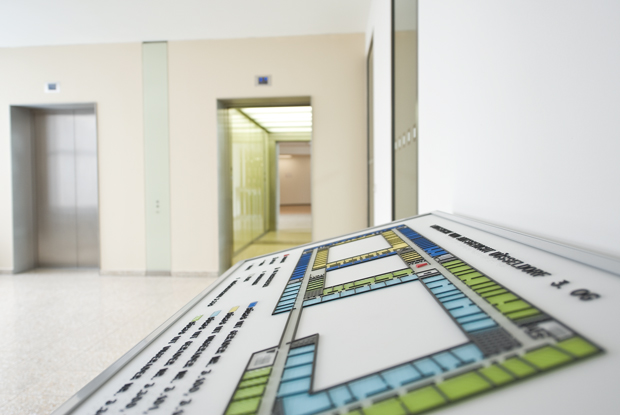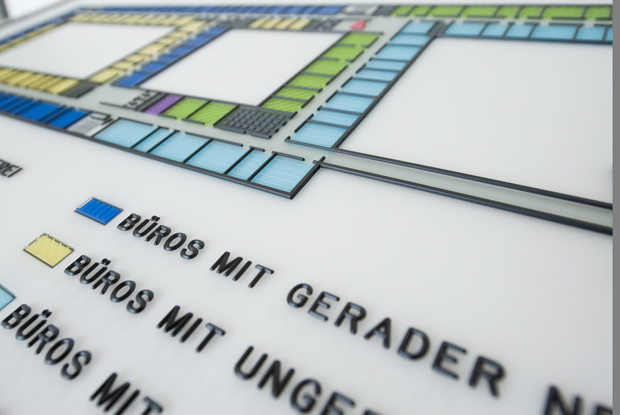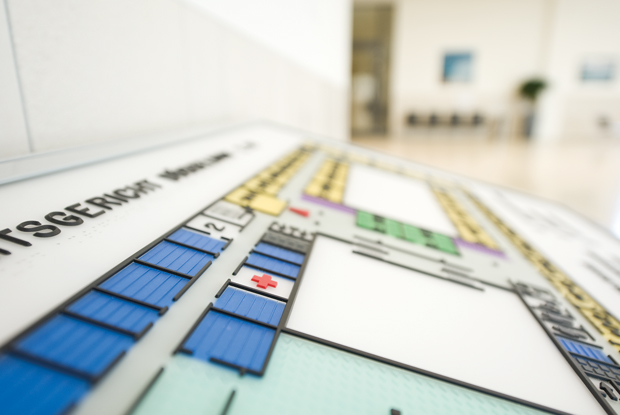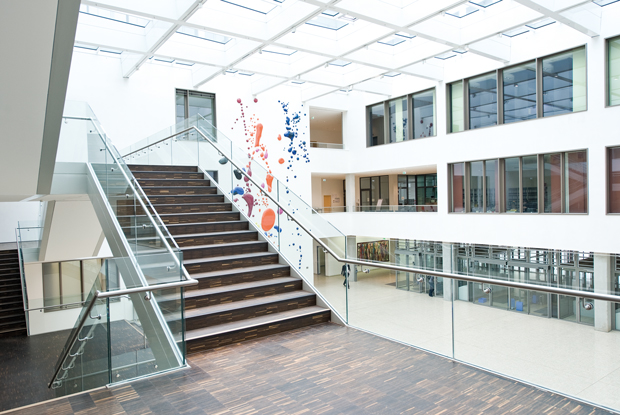 Guidance System from A to Z
The conference and seminar hotel "dbb forum siebengebirge" has a complete integrated guidance system in place that leads people through all rooms, buildings and outdoor facilities.
This means that, besides its state-of-the-art technical facilities and its top-quality hotel and catering areas, four guest lodges and a conference pavilion, this exclusive and architecturally attractive conference venue also features a best-practice holistic information system.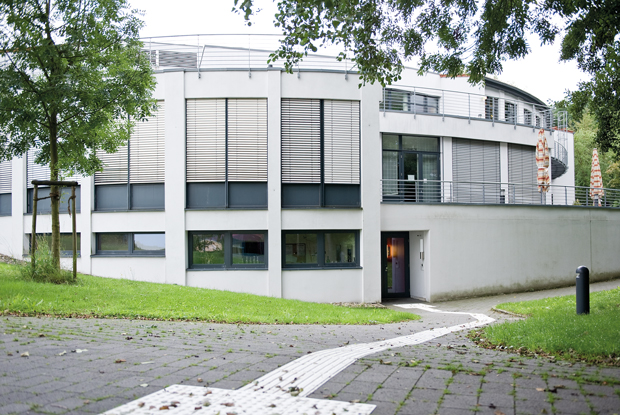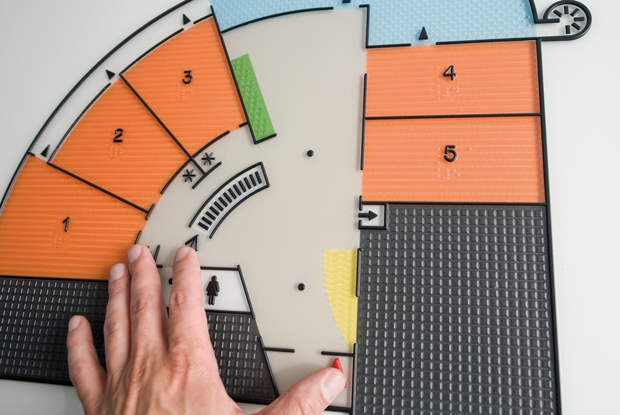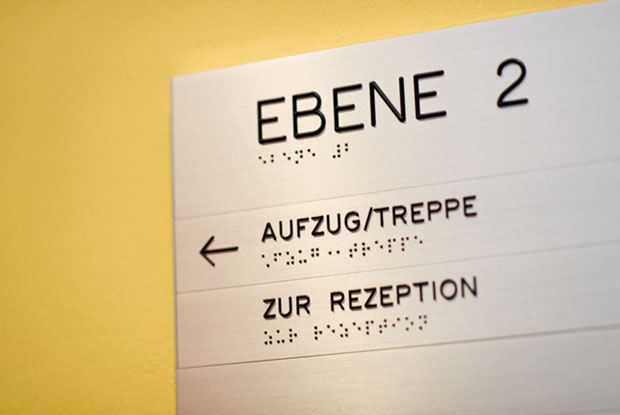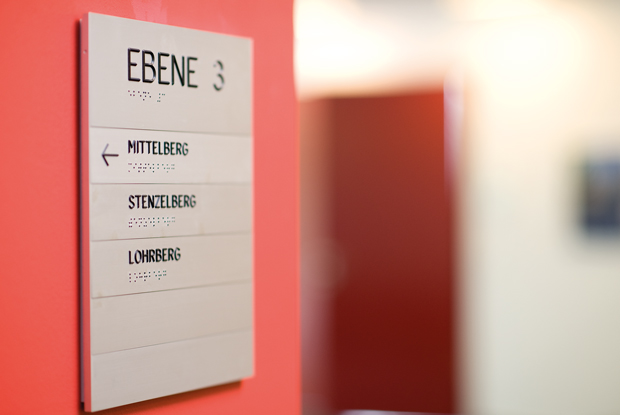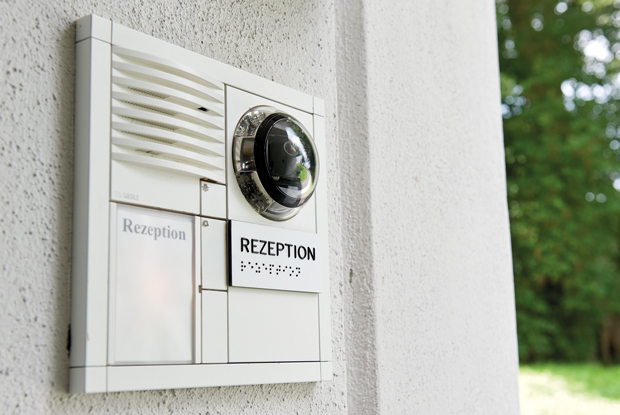 Working out without stumbling-blocks
The sports centre of the Cologne University was in dire need of a general overhaul. Next to the sports hall, which was renovated, an entire new training and gymnastics area was built. I order to enable blind and visually impaired users to use the facilities unassistedly, an order was placed with the experts from Hanover.
ILIS designed and implemented a holistic guidance system with detailed plans, door plates, ground and floor markings, handrail plates and stair markings. The result: A modern training centre for all persons.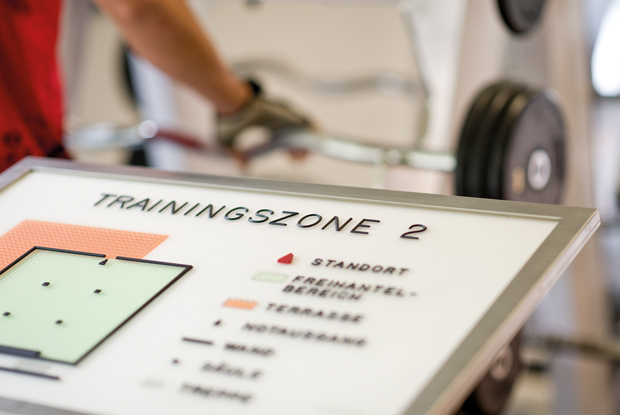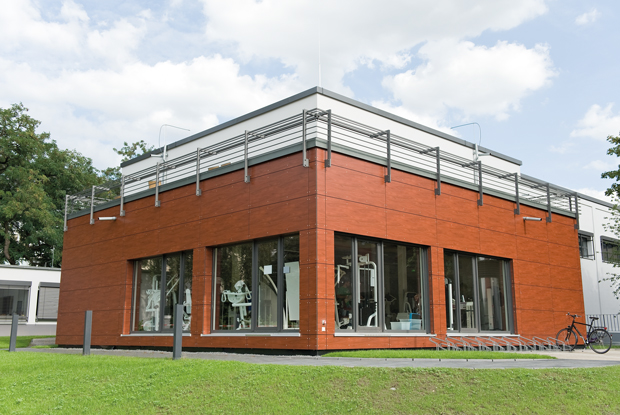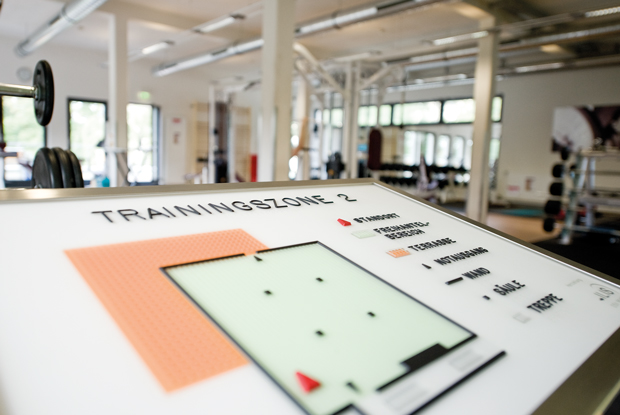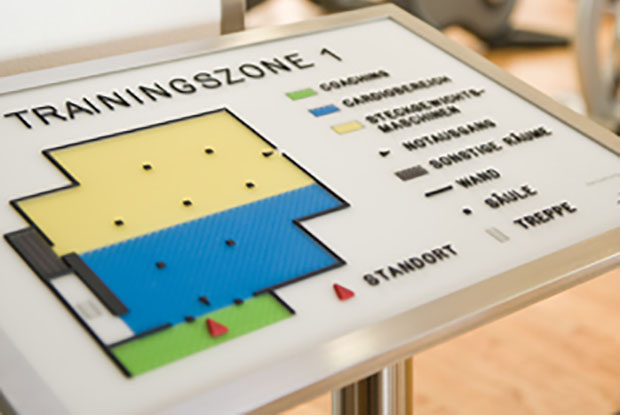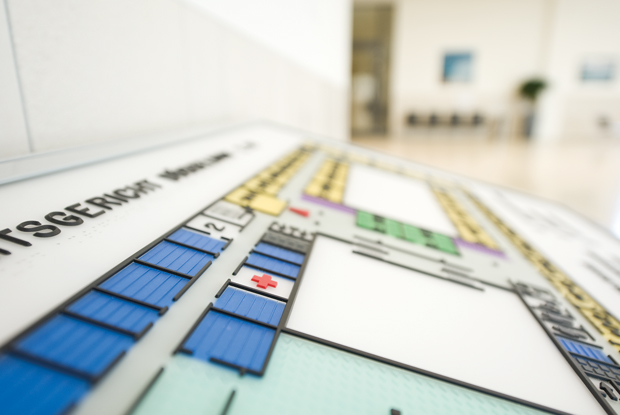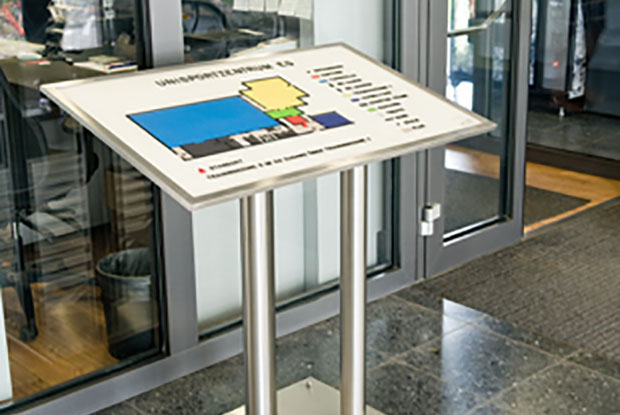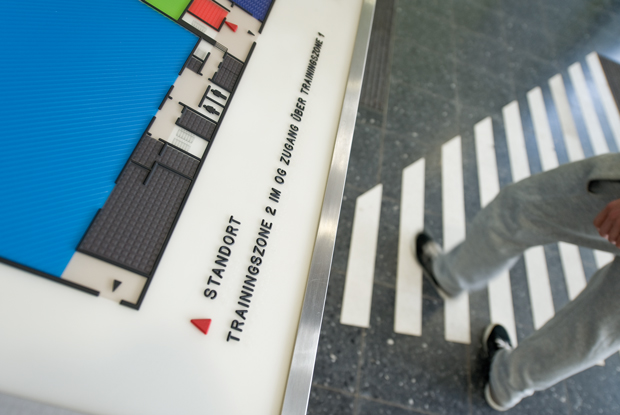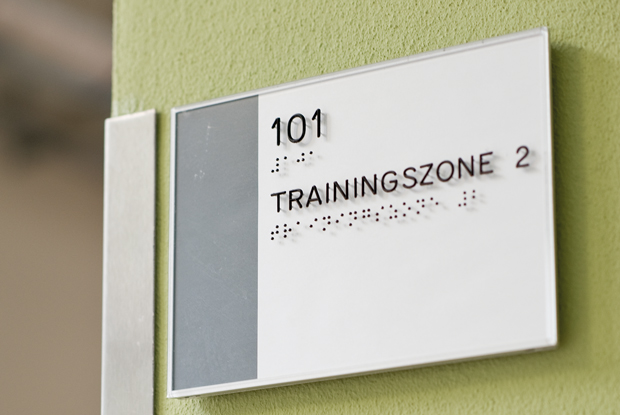 Finanzamt Aachen, Bahnhof Ahrensburg, Bahnhof Altenburg, Stadtverwaltung Aschaffenburg, Stadtverwaltung Bad Homburg, Bibliothek Bad Langensalza, Solepark Bad Salzelmen, Airpark Baden, Zentrum Bayern Familie und Soziales Bayreuth, ZOB Bayreuth, Finanzamt Bayreuth, Christoffel Blindenmission Bensheim, NH Hotel, Alexanderplatz Berlin, S-Bahn Bf. Potsdamer Platz Berlin, Friedrichstadtpalast Berlin, S-Bahn Bf. Ostkreuz Berlin, Bahnhof Berlin Hbf, Haus der Begegnung Bochum, Nationalpark Boek, Aktion Mensch Bonn, Universitätsklinikum Bonn, BraWoPark Braunschweig, Bahnhof Bremen Hbf, Agentur für Arbeit Bremerhaven, Jugendzentrum Dannenberg, Kirchentag Dresden, City Palais Duisburg, Der kleine Prinz Duisburg, Mercatorhalle Duisburg, Königsgalerie Duisburg, Dürener Kreisbahn, Stadtverwaltung Düsseldorf, Bücherei Eckenerstraße Düsseldorf, Land- und Amtsgericht Düsseldorf, Naturpark Eichsfeld, Skulpturengarten Frechen, Bahnhof Freiburg Hbf, Naturparkzentrum Fürstenhagen, Bahnhof Garmisch-Partenkirchen, Amtsgericht Geldern, Stadtverwaltung Gelsenkirchen, Sparkasse Gelsenkirchen, Justus-Liebig Universität Gießen, Bahnhof Groß Gerau, Tagungszentrum Gültstein, Amtsgericht Güstrow, Stadtverwaltung Gütersloh, Sparkassenkarree Hagen, Regionshaus Hannover, Üstra Servicecenter Hannover, Bürgeramt-Mitte Hannover, Sparkasse Hannover, Großer Hillen Hannover, Landessportbund Hannover, Stadtverwaltung Harsewinkel, Turnhalle Grundschule Hitzacker, Bahnhof Kassel Hbf, St. Kastor Koblenz, Uni Köln, Finanzamt Köln Süd, LVR Schule Köln, DBB Forum Siebengebirge Königswinter, Mevlana Kültür Merkezi Konya Türkei, Flower Garden Kromeriz Tschechien, Port of Los Angeles USA, Bahnhof Lübeck Hbf, Telekom Ludwigshafen, Fachhochschule Magdeburg, VdK Mainz, Uni Mainz, Hotel Kornspeicher Marburg, Nationalpark Tor-Höfen Monschau, U-Bahn Hbf Müchen, Museum Brandhorst München, Freibad Stapelskotten Münster, Naturpark Nordeifel Nettersheim, Bahnhof Nürnberg Hbf, Gesundheitsamt Oldenburg, Amt für Wirtschaftsförderung Oldenburg, Land- und Amtsgericht Oldenburg, INSEP Paris Frankreich, Sparkasse Prag Tschechien, Garten der Sinne Ratingen, ARP Museum Remagen, Bahnhof Rendsburg, King Saud University Riyadh Saudiarbien, Internatsschule für Hörgeschädigte Schleswig, Innenministerium Schwerin, Heringbau Toronto Kanada, Bahnhof Traunstein, Rathaus Wedel, Fallerslebengymnasium Weimar, Telekom Westerstede, City Revier Wiesbaden, Mutter-Kind-Klinik St. Ursula Winterberg, Verwaltungszentrum Stadt Zwickau